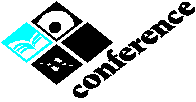 9.5.´97 Changes to the Information World
Planetarium Prague

8:15 - 9:00 Registration

9:00-11:00 Session I
Session Chairman: Vojtich Balík, Director, Czech National Library

9:00-9:10 Conference Opening
Vladimír Karen, Albertina icome Praha s.r.o.

9:10-9:55 The Role of Public Libraries in the Information Society - Helsinki City Library as an Example
Sirkka Elina Svedberg, Deputy Library Director, Helsinki City Library, Finland

9:55-10:15 KR-ONDISC a KR@SITE
Sjoerd Vogt, Knight-Ridder Information, Great Britain

10:15-11:00 Scientific and Scholarly Information Methods Today and in the Future
Jaroslav Šilhánek, University of Chemical Technology, Praha

11:00-11:30 Coffee Break

11:30-13:00 Session II
Session Chairman: Ivana Kadlecová, Main Library of the Czech Academy of Sciences

11:30-12:00 Global Information Infrastructure as a Metaphor for the Future
Jitka Hurych, Founders Memorial Library, Northern Illinois University, USA

12:00-12:20 Information Access Company - the Complete Answer: FullText CD-ROMs in the Field of Academic and Business Information
Rhiannon James, Information Access Company, Great Britain

12:20-12:40 UMI: The Answer Company
Elaine Chalmers-Brown, UMI, Great Britain

12:40-13:00 Librarians of All Nations, Unite!
Stanislav Psohlavec, Albertina icome Praha s.r.o.

13:00-14:30 Lunch Break

9.5.´97 Changes to the Information World - contd.

14:30-16:20 Session III
Session Chairman: Vladimír Karen, Albertina icome Praha s.r.o.

14:30-15:00 Internet & Electronic Services at the State Technical Library - Integrated Virtual Library
Saša Skenderija, State Technical Library, Praha

15:00-15:20 Java Technology & the Delivery of Ovid Full Text Information
Jim Drier, Ovid Technologies, Great Britain

15:20-15:40 The Best of Both Worlds - Electronic Access to Microform Collections
Katri Deißroth, Primary Source Media, Germany

15:40-16:00 SilverPlatter - Technology with the Future Built-In
Kevin Morrissey, SilverPlatter Information, Great Britain

16:00-16:20 Gale - Helping Libraries Prepare for the 21st Century
David Bateson, Gale Research, Great Britain

16:20-16:30 Closing

---