SilverPlatter - Technology with the future built in.
Kevin Morrissey, Manager - New Business Development

SilverPlatter's mission statement commits SilverPlatter to be part of the World-Wide Digital Library through a process of collaboration and technology provision. To help enable this process we are providing a rapidly expanding collection of premium databases, effective and precise searching via our search and retrieval engine, User choice of client interface and Systems choice of server platform and database delivery media.
Today I am going to talk about our current collection of some 280 databases that we currently publish, some of the newer premium products we are bringing to the market this year, the 50 databases of regional interest currently produced by SilverPlatter partner publishers. SilverPlatter partner publishers licence our technology to create ERL compliant databases that are searchable alongside SilverPlatter's premium databases. I also want to talk about Open Systems, our ability to integrate with Library catalogues and our commitment to Open Systems through new technology that is currently entering the very first stages of its beta process.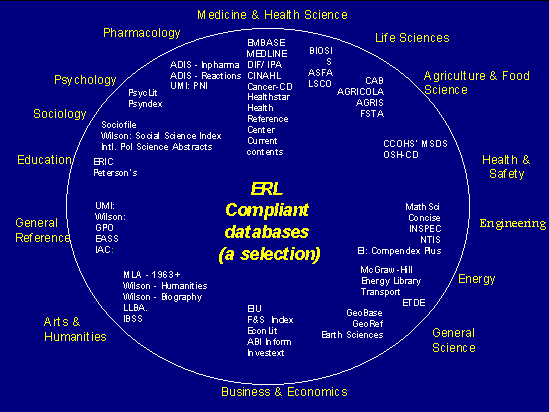 Here is an over view of what is the most comprehensive collection of databases available on the choice of CD-ROM, Local Area Network and over the Internet. This closes the circle of Information requirements.
Within Medicine and the Health Sciences we have over 30 databases available from SilverPlatter, with more to come soon, particularly the Pascal Biomed database from France.
We have the most comprehensive choice of databases available inHealth and Safety and Agriculture and Food Sciences. We offer a similar range of choice within Engineering, Business and Economics and within The Arts, Humanities and Social Sciences.
We are adding many new premium databases to our collection of ERL titles, including LISA, Books in Print, Ulrichs, Pascal Biomed and Leatherhead Food Research. By the end of 1997 we will also have over 75 Partner Published titles available.
SilverPlatter meets your information needs, with 280+ database titles, which can all be simultaneously cross searched using a very wide range of client and server platforms. These databases can also be used in a number of different network environments with no loss of functionality.
SilverPlatter's client and server software is provided as part of your database subscription price, so there are no additional hidden costs involved in buying from SilverPlatter. This also includes all of our web gateway and Z39.50 options.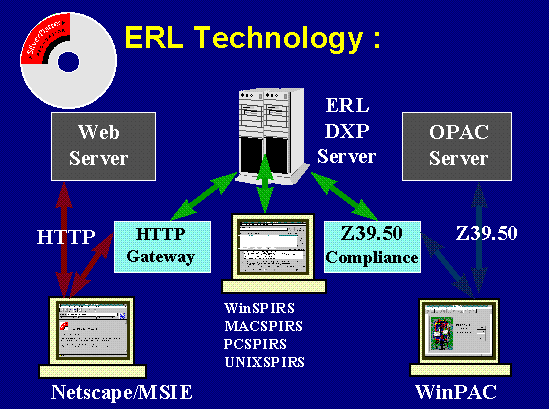 This is SilverPlatter's technology today. Centred around our ERL server communicating via the DXP protocol to our clients, to Web Browsers and to Z39.50 OPAC systems via dynamic linking.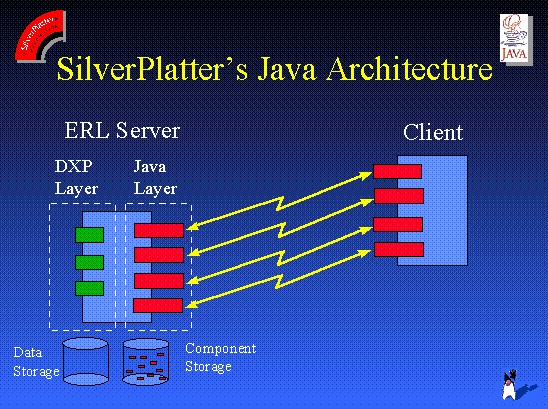 This is SilverPlatter's technology for the future. Not only have we developed a Java Client but we have developed a Java Server as well. As you can see the Java Server is fully integrated with the DXP server and will run on the same machine simultaneously, thus SilverPlatter's current technology really does have the future built in.