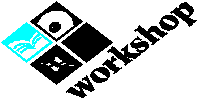 8.5.´97 Changes to the Book Market
Industrial Palace (BookWorld ´97) - right wing, workhop area




10:00-10:30 Registration

10:30-13:00 ELECTRONIC PUBLISHING
Session Chairman: Jiří Kadleček


10:30-11:00 Paper or bits: Multimedia in Finland
Marjo Mäenpää, Taifunni Publishers, Finland

11:00-11:30 Experiences with an Electronic Daily Newspaper
Ondřej Neff, Freelance Writer

11:30-12:00 Multimedia Texbook of Endoscopy on CD-ROM
Petr Kocna, Gastroenterological lab, 1st Medical Faculty, Charles University
M. Havránek, První multimediální s.r.o.

12:00-12:30 HTML Forever ...
Stanislav Psohlavec, Albertina icome Praha s.r.o.

12:30-13:00 Electronic Dictionaries and Encyclopedias
Rudolf Eervenka, Leda s.r.o.



8.5.´97 Changes to the Book Market
Industrial Palace (BookWorld ´97) - right wing, workshop area




14:00-17:30 HOW CAN INFORMATION HELP IN THE BOOK BUSINESS
Session Chairman: Jioí Kadleeek

14:00-14:45 Czech Databases Usable by Booksellers, Distributors and Acquisition Managers
Aleš Bro?ek, State Research Library Ústí n.L.

14:45-15:15 Indispensable Bibliographies by K.G. Saur Verlag/R.R. Bowker: The Books in Print Family and Others
Gisela Hochgeladen, K.G.Saur Verlag

15:15-16:00 Use of Internet Resources from Book Publishers in Library Acquisition and Services
Daniela Tkačíková, Central Library, Technical University Ostrava

16:00-16:30 Break

16:30-17:00 Catalogue of Books on Stock - the Czech "books-in-print"
Jaroslav Císař, Association of Czech Booksellers and Publishers

17:00-17:30 From Publisher to Reader and Back (Book Information and Trade System for Publishers and Booksellers)
Radomír Martinka, Concordia


---