Conference Venue
Inforum 2009 is held in Prague, the capital of the Czech Republic.
Detailed information about Czech Republic you will find here.
Conference Site
The conference will take place as usually at the University of Economics – New Building.
(Vysoká škola ekonomická)
Address of Conference Site (map)
Winston Churchill Square 4
Prague 3 – Žižkov
Conference sessions will be held in Vencovsky Aula (former New Auditorium) and Auditorium D.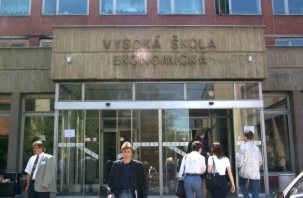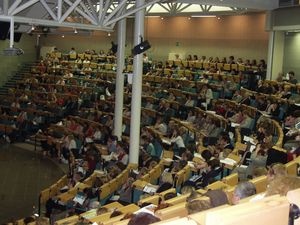 How to reach Inforum 2009 Conference Site?
From the city
The nearest tram stop to the University of Economics is HUSINECKÁ and it is two minutes by tram from metro station HLAVNÍ NÁDRAŽÍ (red line C). Please use tram No. 9 (direction SPOJOVACÍ), 26 (direction NÁDRAŽÍ HOSTIVAŘ) or 5 (direction OLŠANSKÉ HŘBITOVY).
You can also use bus No. 135 which has a stop right on the Winston Churchill Square - via boarding it at either the FLORENC metro stop on metro lines B and C (the yellow and red lines) or from the ŽELIVSKÉHO metro stop on line A (the green line).
Fast and easy search for links of Prague integrated transport (PIT) system could be made at pages of DP Praha.
From the Prague Ruzyne Airport
Airport taxi - the way to the conference site will cost approx. 550 CZK.
Minibus CEDAZ -Shuttle minibuses designed to carry people ar located just in front of the airport arrival hall.

Regular shuttles - run in half-hour intervals - from 6.00 to 21.00 between Prague Ruzyně Airport and the city centre (V Celnici street, Prague 1).
Or you can go to the nearest metro station only (DEJVICKÁ – green line A) for 90 CZK. It takes about 10 minutes from the airport.
Tickets are available onboard.
Non-regular minibus service -CEDAZ also provides door-to-door service to any destination in the centre of Prague for a fixed price of CZK 480 and up to four people.
Public transportation - Bus line No. 119 runs approx. every 15 minutes nonstop between the airport and metro station DEJVICKÁ (green line A). The way takes you about 20 minutes. The easiest way to get to the Conference Site is to take tram No. 26 in direction NADRAŽÍ HOSTIVAŘ and get off on HUSINECKÁ stop.
Don't forget to buy a 26 CZK ticket from the news-stand or from the yellow machine at the airport. You should also buy and validate a 13 CZK ticket for any suitcase.
From the Railway Stations: Prague Main Railway Station and Holesovice Railway Station
Please take tram No. 5 to HUSINECKÁ stop (it takes approx. 6 minutes)
You will need 18 CZK ticket – for you and for your any suitcase.
Transportation in Prague
There is a rich system of public transport in Prague. Transportation in Prague is provided by metro (subway), trams, and buses from 5.00 till midnight, and by night trams and buses. Tickets can be bought in yellow sales machines (in each metro station) or at news stands. A ticket must be time-stamped upon boarding a bus or tram for the first time or at the entrance to the subway.
Journey planner, timetables, more info
Single tickets
Transfer tickets – CZK 26
Tickets can be used 75 minutes from validation. On working days from 20.00 to 05.00 and on Saturdays and Sundays round the clock such tickets can be used 90 minutes from validation.
Non-transfer tickets – CZK 18
Apply to trams and buses 20 minutes allowing no change. On the metro such tickets are valid for the distance of 5 stations from the station of validation (not including the station of validation) allowing to change between the lines A,B,C, but no longer than 30 minutes. These tickets do not apply to night routes and funicular railway.
Short-term tickets
24-hour ticket / CZK 100
3-day ticket (72 hours) / CZK 330
5-day ticket (120 hours) / CZK 500